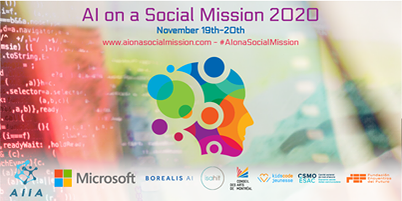 Je suis extrêmement honorée d'avoir la chance de présenter mon travail à la conférence IA en mission sociale AI on a social mission et de discuter comment l'art nous aide à voir, à ajouter des perspectives lors de l'examen des questions importantes levées par l'intelligence artificielle.
Schedule here . L'horaire ici: https://spark.adobe.com/page/fEKHsHyw6N99e/

And tickets: https://www.eventbrite.ca/e/ia-en-mission-sociale-2020-ai-on-a-social-mission-creative-ai-edition-tickets-88269058129?fbclid=IwAR3ok0H-QuUEdx5JOvL1I_zXw1o6ElPrAlF7Wmw3HT0hdv3P7ObFu4j0kkg
I'm extremely honoured to have the chance to present my work at the IA en mission sociale AI on a social mission conference and discuss how art can help us see and add different perspectives when it comes to important questions such as the ones raised by artificial intelligence.